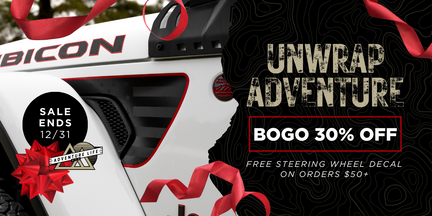 Elevate Your Style with Premium Jeep Gladiator Decals and Accessories
Want to stand out from the crowd and express your individuality through your vehicle? Adventure Life USA is your one-stop destination for all things Jeep Gladiator decals, graphics, and accessories. Elevate your vehicle's aesthetics with our extensive made in USA collection of premium decals and graphics that have been designed to cater to every Jeep Gladiator aficionado's unique style and preference.
Explore your possibilities with Jeep Gladiator Decals
For any Jeep Gladiator owner, it is more than just a vehicle. It is a canvas you can adorn with your personal touch. Explore our wide yet carefully curated range of Jeep Gladiator graphics, decals, and accessories you can use to transform your Gladiator into a reflection of your personal style and choices.
Whether you are an adventure seeker, a nature level, or a minimalist looking for striking details, you will surely find something you like. If not, we will be more than happy to prepare a custom design to your liking.
Jeep Gladiator Graphics and Decals that stand out
We feature a wide and impressive range of options in terms of graphics and decals; from sleek urban-inspired graphic wraps to rugged off-road or safari designs, we have it all. You will find decals for Jeep Gladiator in a wide variety of styles, colors, and themes for making a bold statement or subtly enhancing your Jeep's outlook.
Quality that you can trust
Our Jeep Gladiator decals and graphics stand out for the variety and premium quality at excellent prices. Your Gladiator deserves only the best, which is why we feature products made from high-quality materials to ensure durability.
Check out our exclusive Jeep Gladiator vinyl decals that can withstand the toughest terrains while maintaining their appeal and charm. Our premium decals and accessories will stand the test of time against various elements while maintaining their vibrant appearance that will not fade over time.
Easy to apply
Applying decals was never this easy. Our Jeep Gladiator decals and Jeep Gladiator stickers are user-friendly and designed for easy installation. However, if you are concerned about misalignment or bubbles, or have any other queries, follow our step-by-step installation and removal instructions to help you guide through the process.
Customization at its peak
Our exclusive decals range covers a wide range of options. However, if you are the kind of Gladiator owner who thrives on uniqueness, our custom Jeep Gladiator design options are just the thing for you. Create custom decals according to your specifications and liking, and we will gladly make them for you.
Gladiator Sticker and Accessories You Cannot Miss
Besides our exceptional decals and graphics range, we also feature a wide selection of must-have Gladiator accessories that will surely complement your vehicle's style and enhance its appearance.
We feature a wide array of premium sticker designs, from the classic Jeep logo to more intricate designs and patterns to add a touch of sophistication and raise the style bar. Explore our various themes, from modern geometric patterns to wilderness-inspired designs and motifs, to find the one that most resonate with your style.
Alternatively, if you want to add a touch of authenticity to your Gladiator, check out our high-quality Gladiator emblems. Build to last; these emblems are a refined and effective way to personalize your vehicle.
Even if you are looking for something even more unique, consider our custom options to create a Gladiator unlike any other on the road, which will feature your unique ideas and designs. You can find the best jeep gladiator accessories and best gladiator accessories on our website. These accessories  promise performance and durability, so you can trust them to withstand the challenges that come with commuting on urban roads or off-road adventurous journeys. 
Travel in Style with our Jeep Gladiator Accessories and Decals
Your beloved Gladiator is an extension of your personality. Let it shine, though, and speak volumes with our premium decals ranging from statement makers to subtle accents. Make your mark on the road and turn heads wherever you go!
Join the ranks of the proud Gladiator owner who have adorned their vehicles and elevated them from the status of ordinary to extraordinary with our top-of-the-range decals, graphics, and accessories. Whether you are a pure city explorer, an off-road wanderer, or a bit of both, your Gladiator deserves to reflect your true spirit, and we have just what you are looking for. Check out our selection to transform your vehicle into a head-turner.
Not sure where to start? Contact us today! Our team of experts will guide you through the selection process. We can help you find the perfect piece so you can travel in your Jeep Gladiator in style.
Shop the look